Regular price
$92.99 USD
Sale price
$90.00 USD
Unit price
per
*Please read before buying*
Frey Ranch 750ml Rye Whiskey + 375ml Bourbon Bottles
The perfect gift to sip + share with friends and family for the holidays! Included is a 375ml bottle of our signature Straight Bourbon Whiskey (perfect if you need a host gift or stocking stuffer), and a full-sized bottle (750ml) of our Straight Bottled-In-Bond Rye Whiskey. This bundle is only available while supplies last!
Frey Ranch Four Grain Straight Bourbon Whiskey is 100% sustainably grown, malted, distilled, matured, and bottled on the Frey Ranch in Fallon, Nevada for consistently high quality as a point of pride. Aged for an average of five years, this 90-proof bourbon is smooth yet complex with oak and citrus aromas followed by vanilla, caramel, banana chips, and dried hay on the palate. With a mash bill of non-GMO corn, winter cereal rye, winter wheat, and two-row barley-malted on-site, this is a flavorful bourbon that can easily be enjoyed on its own, yet also holds up in any whiskey-based cocktail.
Frey Ranch Bottled-In-Bond Straight Rye Whiskey is made with 100% Winter Cereal Rye, aged for a minimum of five years and bottled at 100 proof. This whiskey is smooth enough to sip, yet spicy enough to shine in a cocktail. Frey Ranch Straight Rye Whiskey is recognized with a Double Gold medal from the San Francisco World Spirit Competition, which is a true recognition of the high-quality Rye grown right here on the Frey Ranch.
Please note: We cannot deliver SPIRITS to the states of Alaska, Arkansas, Hawaii, Iowa, Indiana, Louisiana, Maine, Minnesota, Mississippi, Montana, South Dakota,  Utah, Vermont, Virginia, West Virginia, and Wyoming.
View full details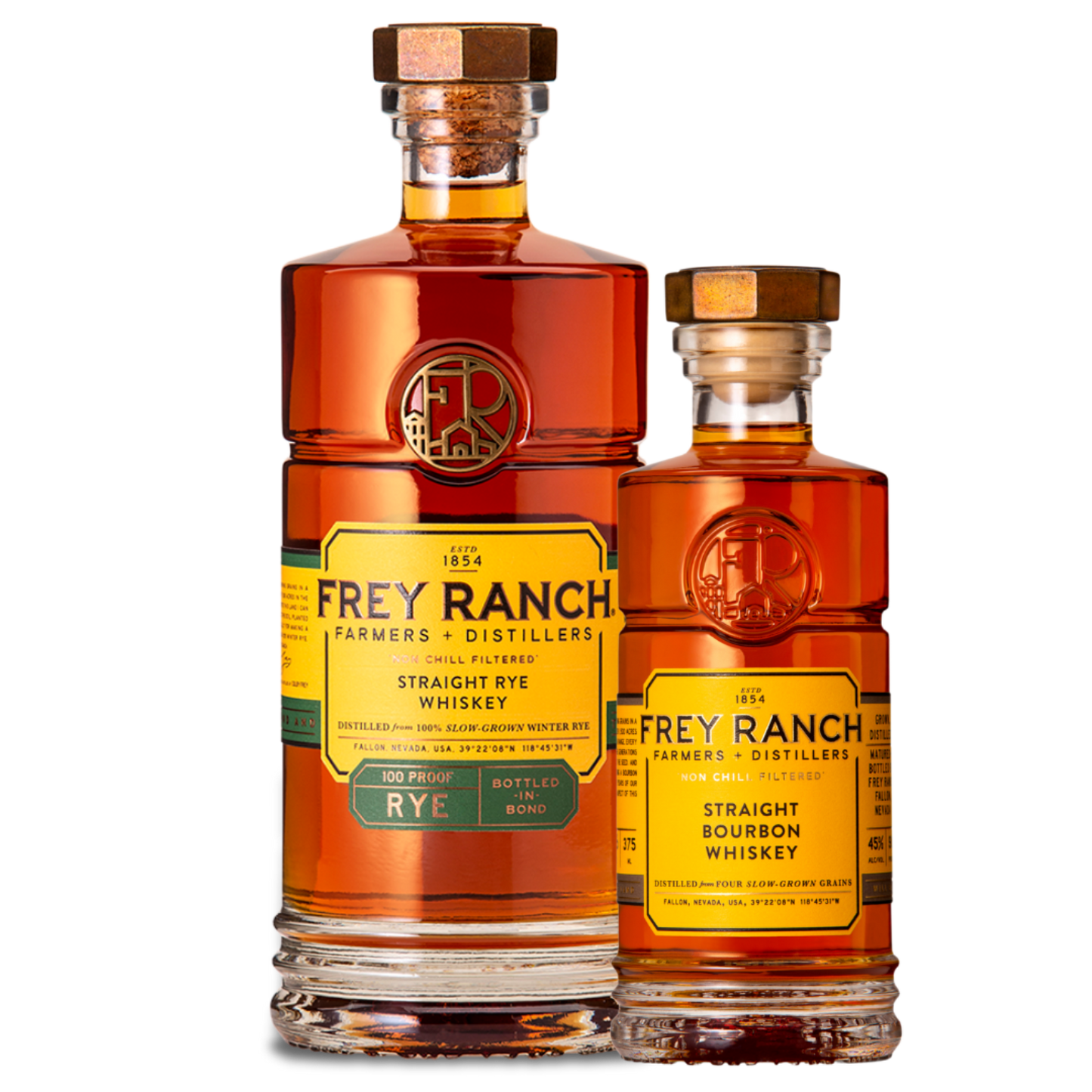 Shipping Details
*PLEASE READ BEFORE BUYING*


Spirits Currently Unavailable in: AL, AK, AR, HI, IA, IN, LA, ME, MN, MS, MT, SD, UT, VT, WV, WY


Someone 21 years of age or older must be available to sign for any alcohol orders.




We cannot ship to a PO Box, including military bases, FedEx, UPS or Walgreens as they will not accept other local carriers' packages.




Orders are generally delivered within 3-15 business days from purchase.




Tracking information will be sent to customers once fulfillment is completed, typically within 5 business days unless one of the below conditions apply.




If your purchase includes any presale/preorder items, the order will be fulfilled once these items are available — please expect a delay. Fulfillment times will also vary if an item is backordered and will ship based on item availability.




All sales are final - No returns or exchanges. Shipping carriers will make up to three (3) delivery attempts. If you cannot accept delivery during these attempts, the product will be returned to us. If you would like us to reship your order, an additional $40 fee will be applied.